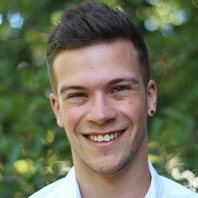 Fabian Ruperti
is working on
ESR Project 4: Comparative single-cell transcriptomics in sponges and placozoans​
under the supervision of
Prof.
Detlev Arendt
at the
European Molecular Biology Laboratory

(

EMBL) Heidelberg
. In his project Fabian will study early non-vertebrate metazoans and wants to focus on the evolution of proteins in the nervous system (and its predecessor(s)) prominent in these organisms. By doing so, he hopes to contribute to knowledge on the question of when and how animals started to build this incredible networks and communication systems within themselves – ultimately leading to the capability of our own brains thinking about their own origin.
"From the moment on I first read "Jurassic Park" I was immediately into evolutionary biology. Although dinosaurs are cool, the information lying in genomic data of early non-vertebrate metazoans tells us much more about our own evolutionary history,"
shares Fabian.
Before IGNITE Fabian did a BSc in Biochemistry at the
University of Regensburg
, Germany. There he quickly realized that he was interested in proteins and especially enzymes and their evolutionary history. During his MSc studies in Biochemistry at the University of Regensburg Fabian stayed in Boulder, Colorado for one semester. Funded by the Bill & Melinda Gates foundation his project there was the development of a novel vaccine application method. After finishing the Master's in Regensburg in the field of enzyme evolution, Fabian started working for Roche Diagnostics GmbH, developing an affinity column for the purification of bispecific antibodies for cancer immunotherapy. Eventually, he decided to do a PhD at EMBL in Heidelberg.
Besides science, Fabian's passion lies in classical music, especially playing the piano. He also loves to travel around the world, visit new places and cultures and meet interesting people. Closely tied to the passion for evolutionary topics, collecting fossils at the famous limestone quarries in Solnhofen is also a great hobby of his.
Insititution:
European Molecular Biology Laboratory

(

EMBL) Heidelberg
ESR Project 4:
Comparative single-cell transcriptomics in sponges and placozoans