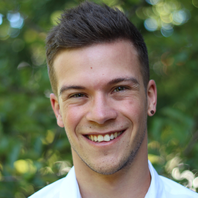 Fabian Ruperti
is working on
ESR Project 4: Elucidating the mechanics of "nervous" reactions in nerveless sponges and placozoans
under the supervision of Prof.
Detlev Arendt
at the
European Molecular Biology Laboratory (EMBL) Heidelberg
. The nature of the last common ancestor of the Metazoa is largely unsolved, due to uncertainties in the branching pattern of non-bilaterian clades and, consequently, in the significance of the apparent morphological simplicity. For instance, our understanding and interpretation of the simple body plan of sponges and placozoa largely depends on their actual phylogenetic position in the animal tree of life. One distinct feature of both phyla is the absence of neurons and muscles which may be due to an early branch-off and suggests them to be primarily simple; should they be closer related to cnidarians than for instance ctenophores, this could account for a secondary simplification or – more probably – an independent evolution of a nervous system in ctenophores. However, despite the absence of a nervous system, the genome and transcriptome of sponges and placozoans show the occurrence of typical synaptic proteins. Also, when treated with neurotransmitters and neuropeptides common in other metazoans they show behavioral reactions suggesting a primeval neuron-like signal transduction. The PhD student of project 4 will focus on the protein specific interactions leading to the uptake and transduction of "neuronal" signals in sponges and placozoans by means of proteomics.
Before IGNITE Fabian did a BSc in Biochemistry at the
University of Regensburg
, Germany. There he quickly realized that he was interested in proteins and especially enzymes and their evolutionary history. During his MSc studies in Biochemistry at the University of Regensburg Fabian stayed in Boulder, Colorado for one semester. Funded by the Bill & Melinda Gates foundation his project there was the development of a novel vaccine application method. After finishing the Master's in Regensburg in the field of enzyme evolution, Fabian started working for Roche Diagnostics GmbH, developing an affinity column for the purification of bispecific antibodies for cancer immunotherapy. Eventually, he decided to do a PhD at EMBL in Heidelberg.
Besides science, Fabian's passion lies in classical music, especially playing the piano. He also loves to travel around the world, visit new places and cultures and meet interesting people. Closely tied to the passion for evolutionary topics, collecting fossils at the famous limestone quarries in Solnhofen is also a great hobby of his.
Insititution:
European Molecular Biology Laboratory

(

EMBL) Heidelberg
ESR Project 4:
Comparative single-cell transcriptomics in sponges and placozoans